Living the Kai Life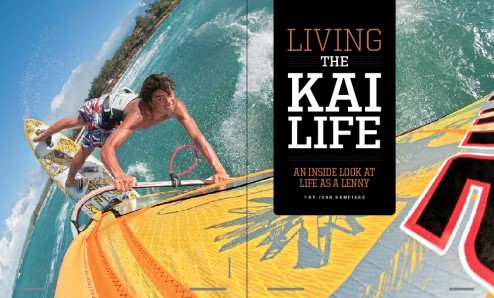 I am a 28-year-old single male with a steady income and loving — and living! — parents. But if the Lenny family wanted to call me one of their own, I'd have a very, very hard time saying no. Maybe it's the modest family home on the North Shore of Maui — just a few steps from the beach, featuring a gear shed that's stocked with enough toys to put the entire Brady Bunch crew on the water. It could be the natural hospitality that Martin Lenny, former general manager of one of the most famous seafood restaurants in the world, and his wife, Paula, exude whenever you walk into their home — or a shared appreciation of an excellent cheese blintz. Mostly, though, the reason I want to be adopted is that it's immediately apparent how much fun it is to be a Lenny — especially for 18-year-old Kai Lenny, who in the last few years has grown into a world-class windsurfer, kiter and stand-up paddler, and who's heir apparent to the Naish throne.
This story starts a few months earlier. Its very conception was during a breakfast with the Lenny family, the day after an early screening of The WindSurfing Movie II at Red Bull headquarters in Santa Monica, California.  It's our second morning in a row at Fromin's Deli, a few blocks off Santa Monica Boulevard, and Martin Lenny can't stop raving about the blintzes. Our waitress, a 60-year-old East Coast transplant who probably serves a thousand blintzes a week, remembers the chatty teenager from the morning before. "Did you guys do something fun yesterday?" she asks. Kai responds with the same enthusiasm he has for everyone he talks to. "Yeah! We saw a windsurfing movie! The windsurfing movie!" he says. Not "I was in a windsurfing movie" — there's no bragging, no look-at-me, rock-star attitude one might expect of a 17-year-old who's been on the cover of windsurfing magazines the world over. He's just a kid excited about a windsurfing movie — nevermind the fact that he's one of the stars.
The waitress leaves, and Martin continues relating a story about Kai's first ride on a dirt bike as a 6-year-old, in which he falls, gets up and exclaims, "That was awesome!" Nevertheless, Kai didn't get into motocross (the windsurfing world should be grateful for that) after his mother, who works as a doctor at Maui's Kaiser Permanente Hospital, put the kibosh on any further gasoline-fueled adventures of the two-wheeled kind. Martin said he wasn't worried about Kai getting hurt — believable from a man who let his 16-year-old son ride the biggest wave in the world — but after Paula reminded Martin that dirt-bike events meant sitting in a dust bowl in upcountry Maui while the wind and waves pounded the shores — Martin decided he'd be selfish. He liked to windsurf, and Kai could learn that instead. There's no question who's responsible for Kai's love of water sports — his parents are keen sailors. Paula learned to windsurf in the Gorge, then moved to Maui where she met Martin, already an enthusiastic windsurfer himself. While they may not get on the water as much as their waterman son, they surf, sail and stand-up paddle-board as often as their jobs and schedules permit.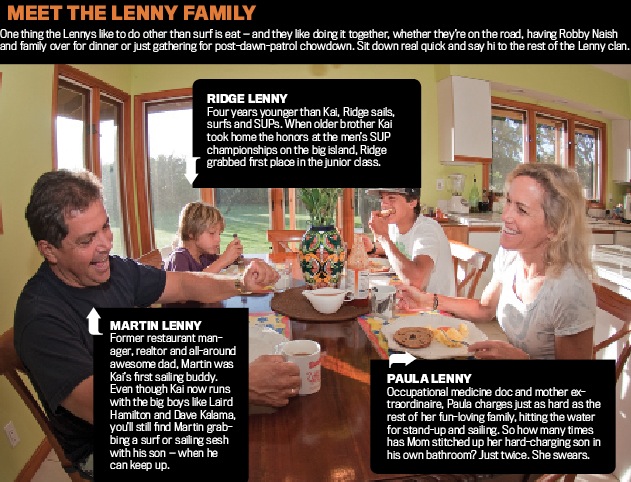 Kai isn't paying attention. He's got his iPhone under the table, hidden from view as he taps away at the screen. But he's not playing a game or texting one of his friends like most teenagers would be doing. He's working on a list of windsurfing moves he wants to do. And not just moves other guys are already doing — new moves that he wants to invent. I point to one and ask him what it is. Kai's eyes get wide like he's just revealed a secret — he doesn't want anyone to know what he's working on until he's got the move down. I promise not to reveal anything, but he maintains silence, smiling as he drops a few hints before returning his attention younger brother Ridge. Ridge is five years younger than Kai, and it's clear that Kai likes playing the role of big brother. Since Kai has been online schooled since he was 15 — working hours of schoolwork in between trips to Europe, Tahiti, Australia, Asia or Cabo Verde — he's developed a closeness with his family that one doesn't expect from the typical rebellious teenager. Unlike many people his age, he's comfortable and happy around his parents, and it shows.
Kai finished high school in January. Despite the fact that getting a typical education is probably low on the list of Kai's priorities, you quickly get the impression that he is as diligent in his schoolwork as he is in water-sports training. Despite that, the recently passed high school graduation comes off as sort of a nonevent for Kai, and for a moment, it strikes one as odd how quickly he moves past it. But in reality — it makes sense. Lots of teenagers have graduated from high school. They do so every year. Only a couple 17-year-olds have ever sailed Jaws. Kai was one of them. How did his parents feel about their yet-to-be-a-legal-adult son putting himself in one of the most dangerous places on Earth? Helpless, mostly — to them, it was inevitable.
Kai isn't necessarily the best 18-year-old wave sailor in the world — there's more than one other young sailor that can give him a run for his money. Kai's OK with that — sort of. He acknowledges the skill of other sailors, but he's quick to let you know he thinks he has as much potential as any of them. "I think I've got what it takes to be world champion," Kai says, without a hint of trepidation. What convinces you, however, is that Kai is not a kid with a dream — he's a man with a plan. "I've been spending a lot of time seeking out the best waves in the world and free-sailing. For a lot of people, that's where the loosest, most fearless sailing happens. I want to re-create that in competition, consistently." Whether Kai will do that is a question that will be answered in the future. But for now, there is little doubt that Kai is the most famous young windsurfer in the world. Part of that is the skill he exhibits in other sports — stand-up and tow-in surfing, primarily — and much of it is owed to the relationships he and his family have cultivated with people like Robby Naish and Levi Siver — both Red Bull teammates — or Laird Hamilton, with whom Kai shares a sponsor in Oxbow. Why sponsors flock to him is easy to see — Kai's got charisma — and it's grown as he's gotten older. So does this come naturally to Kai, or he is the windsurfing version of Justin Bieber, handpicked and groomed to become the next windsurfing celebrity? Kai's had some help — that's for sure. It's easy to imagine Martin as the windsurfing version of a little-league dad, pushing his son into the spotlight, coaching him from behind the scenes. But that's a description Martin has been doing his best to avoid, saying, "I told Robby and [Naish brand manager] Michi Schweiger that if I ever become a little-league dad to just shoot me." Martin has unquestionably wanted his son to succeed in the windsurfing world, but he's made sure that it's what Kai wanted too. When it was clear that he did, they stepped in to make it happen. They got a lot of help from Naish and have benefited from Robby's extensive connections both inside the windsurfing world and beyond. But truly, it's Kai's ambition that got him this far. While he won't reveal his secret new moves, he'll talk about the big moves he's working on sticking right now — the push-loop forward and more consistent doubles. "They're the two highest-scoring moves in wave sailing, and I want to be hitting them as consistently as possible — stomping doubles the way most guys on the pro tour stick regular forwards." Kai is the one who pushes himself to train, to travel and to compete — his parents are just enablers. As Martin says, "We made a deal with Kai — get good grades and we'll support you in what you want to do. Kai held up his end of the bargain." They've been unquestionably supportive — traveling around the world, helping to arrange nontraditional schooling, and of course, before Kai was a sponsored sailor (that happened at age 10), providing the gear and instruction for him to windsurf. Four years ago, the small-for-his-age 14-year-old Kai wowed the windsurfing world as he pushed himself into surf that many adults ran from. At 18, he's a seasoned pro who carries himself with the air of someone with experience beyond his age.
Fortunately for me, my wish to be adopted is going to come true — sort of. The Lenny family has a tradition of inviting orphans to Christmas dinner — and on Christmas Day during my first winter on Maui, I'm happy to be an orphan. When I arrive at the house, it's after dark, but Kai still isn't home yet. Just like last year, there was a giant Christmas swell —  although no wind — and Kai has been out tow-in surfing behind his custom-painted Red Bull Jet Ski. Martin and Paula are futzing around the kitchen while Kai's younger brother Ridge plays with kids from the neighborhood. Kai gets home and doles out friendly greetings to the guests who have already arrived, then emerges showered and dressed to help his parents with one thing they're great at — entertaining. Martin, now a realtor, is as natural a people person as you could ever meet — and Kai is no different. He's been living in a man's world for a long time, and it's remarkable the ease with which the 18-year-old communicates with adults. The topic of much conversation is Kai's first world title — not in windsurfing, but as a stand-up paddler on the first Stand Up Paddle World Tour, prompting the question from a few people: Is windsurfing going to lose Kai to SUP? I decided there was no use in beating around the bush, and put the question to the young waterman in those simple terms. "No," Kai answers, quickly and emphatically. "The two sports complement each other so well. In both of them, you're using a big board, and you're holding something in your hands. And they're not competing for time. If it's glassy, I stand-up surf; if it's windy, I sail." Most importantly, each focuses on his main interest — riding waves. The PWA slalom or freestyle tour holds no appeal for Kai. He was born and raised on waves and that's where he wants to be. Will Kai be the best wave sailor in the world one day? Maybe. He's not even a few months out of high school, but he's already on a mission. "I'm doing every event on the PWA tour next year," Kai says, "as well as the Stand Up Tour and the American Windsurfing Tour." It's a busy schedule, and Kai may or may not achieve that dream in 2011. But whether he wins that title now or in 10 years, what will always truly set Kai apart is his charisma, friendly attitude, diligence and skill on many types of boards. There's no question Kai will be riding this wave for a long time to come.