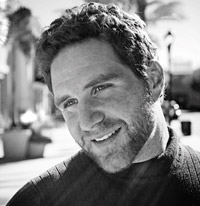 Have you ever met a three-year-old whose favorite food is artichokes? Back in 1985, nobody else had, either. Since his curious (and epicurious) childhood in the shaded roads of South Florida's Coconut Grove, Josh has made a lifetime of getting comfortable where you wouldn't think he'd fit in, and doing things no one would quite expect. A multi-sport athlete who was passionate about theater. A bookworm, and a boisterous extrovert.  A standardized-testing genius whose low GPA got him kicked out of not one but two schools – which subsequently made him a South Floridian in a Massachusetts boarding school. (At least he looked good in a blazer.)
While a predilection for John Irving novels and nebbish girls in polo shirts had him considering continuing his education in New England, the lure of state-funded scholarship drew him back to his home state of Florida, albeit a slightly more "country" corner – Tallahassee. It was there he learned nothing about writing and not so much about women, but a lot about barbecue, beer, and windsurfing. Fortunately for him, the windsurfing thing worked out, because in the midst of applying to law school, he unexpectedly got himself hired by WINDSURFING magazine, for the respectable-sounding title of Managing Editor. Entranced by the allure of the publishing industry (and, you know, a pay check) law school applications were deferred, and not three days after graduation, Josh sat down at the WINDSURFING magazine desk at what was then World Publications, soon to become Bonnier Corporation.
It was there that Josh felt his education as a writer truly began. The fast-paced, deadline-oriented world of the magazine business pushed him to learn, and learn quick. His writing became tighter, more creative, and more impactful. A keen eye for layout emerged, turning Josh into an editor who visualizes first, and writes second.